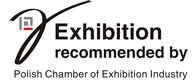 19.12.2018
May this Christmas bring back the best memories, spent together with the closest family, filled with warmth and the smell of gingerbread. May all your dreams come true. Wishing you all the best for 2019.
24.09.2018
Important information for visitors of TAROPAK/4 PRINT WEEK/POLIMER TECH.
27.06.2018
We present You the latest issue of Poznań Fair Magazine. We invite You to read both its paper and online version. In this issue we present the distinguished guests who visited Poznań International Fair in the recent months, provide reports on the spectacular fair and events, and present Arena Hall, which joined the group of objects managed by the Poznań International Fair. And moreover…
More news
---

Next edition: 1-4.10.2018
.